Sandalwood is one of the valuable components of Arabic Perfumes for Women. Its wood has retained its fragrant properties for more than a dozen years. Therefore, it is not surprising to use it to create boxes, rosaries, decorative figurines, and other exquisite gizmos.
The best sandalwood perfumes for women are a mixture of rose, geranium, lily, violet, fruity, citrus, and woody notes.
Many women's perfumes use the note of sandalwood – perhaps only white cedar can compete with sandalwood for the right of the most popular woody note. This article shows you the best perfumes with sandalwood notes containing the most exciting and captivating scents to wear.
Our Top Picks For Best Sandalwood Perfumes For Ladies
1. Tom Ford Santal Blush Eau De Parfum
Tom Ford Santal Blush is a woody-spicy, oriental scent constructed on sticky sandalwood's rich texture and beautifully complimented by exotic oriental spices, heady floral extracts, and rich woods. Santal Blush is part of the Tom Ford Santal collection.
The top notes are cinnamon, cumin, spices, carrot seeds & fenugreek. Heart notes jasmine, ylang-ylang, and rose. Base notes musk, sandalwood, Virginian cedar, Siamese benzoin, and agarwood.
Brand: Tom Ford
Country of manufacture: USA
Gender: Women
Release year: 2011
Perfumer: Yann Vasnier
Notes: cumin, fenugreek, jasmine, rose, ylang-ylang, musk, cinnamon, carrot seeds, benzoin, sandalwood
2. Christian Dior Addict Eau De Parfum
An exquisite fragrance is an example of how a laconic pyramid folds into a robust and recognizable fragrance for a modern, stylish woman. It has Sicilian mandarin at the top, jasmine and neroli in the middle, and bourbon vanilla with sandalwood close to the base. The result is a moderately defiant and sexy flair in the best traditions of the Dior fashion house.
Dior Addict is one of those perfumes you must wear in fresh, cool air. In the spring and summer, wearing a business suit or a light dress is appropriate while strolling along the shady seaside promenade.
Brand: Christian Dior
Country of manufacture: France
Gender: Women
Release year: 2002
Notes: mandarin leaves, sandalwood, cactus flower, orange blossom, blackberry, vanilla, tonka bean, jasmine, rose
3. Montale Santal Wood Eau De Parfum
A laconic composition created for men and women in 2012. This modest composition sparkles with chic velvet, which spreads its golden goodness over the skin. The talented master Pierre Montale subtly felt the energy of the East while working in the Arab countries, so the luxurious oriental woody fragrance embodies beauty and sensuality.
Sea water and juniper in the initial notes shimmer with tenderness and beauty, creating a feeling of a fabulous journey. The rich sound of transparent freshness and lightness envelops and beckons. The magnificent sensuality of sandalwood becomes the central motif of the fragrance. Furthermore, the earthy, spicy scent of oak moss in the fragrance's base distinguishes the composition, revealing a different side of each individual.
Brand: Montale
Country of manufacture: France
Gender: Unisex
Release year: 2012
Notes: sandalwood, marine notes, oakmoss, juniper
4. Diptyque Tam Dao Eau De Toilette Spray
Like a peaceful autumn day, the sweet-warm aphrodisiac scent of Diptyque Tam Dao transports its wearer to a park in the fall. No one can be indifferent to the majestic and seductive scent of Diptyque's Tam Dao, which master perfumer Daniel Moliere concocted.
The perfume has top notes of rose, myrtle, and Italian cypress. Shining in its core are the woodsy aromas of sandalwood and cedar. The fragrance's base components are rosewood, amber, white musk, and spices.
Brand: Diptyque
Country of manufacture: France
Gender: Unisex
Release year: 2003
Perfumer: Daniel Moliere
Notes: sandalwood, rosewood, myrtle, Italian cypress, amber, spices, rose, white musk, white cedar
5. Chanel Coco By Chanel Eau De Parfum
Like a beautiful gem, Chanel COCO is ever-evolving and "shimmers". The top notes are an enticing medley of fruity and floral scents, including peach, mandarin, mimosa, and orange flower. Clove's peppery perfume blends with the sweetness of mimosa, clover, and rose in the "heart" note.
Scents of vanilla, amber, and sandalwood linger in the background to round out the fragrance. When it comes to amber and spices, Jacques Polge noted, "Coco explores inside the Western world the smells that were until then exclusively oriental."
Brand: Chanel
Country of manufacture: France
Gender: Women
Released: 1984
Notes: civet, Bulgarian rose, sandalwood, clover, labdanum, amber, opoponax, mandarin orange, peach, vanilla, carnation, Tonka bean, jasmine, rose, mimosa, pomegranate flower, orange blossom, coriander
6. Guerlain Samsara Eau De Parfum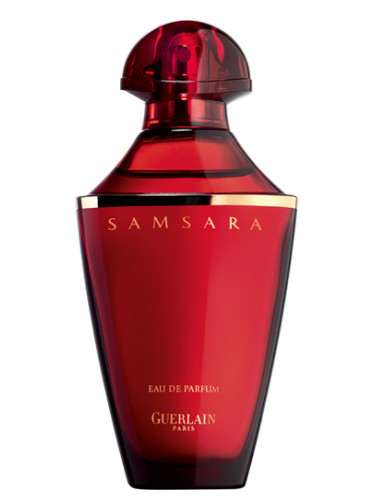 The mysterious and alluring scent of Guerlain Samsara will only enhance the allure of its wearer. The Samsara fragrance is like a cloud of sweetness and love on a special night. Initial bursts of bergamot, lemon, and ylang-ylang lead into a center of jasmine and iris. Woody notes of vanilla, tonka bean, and sandalwood serve as the fragrance's foundation.
Brand: Guerlain
Country of manufacture: France
Gender: Women
Release year: 1990
Notes: sandalwood, iris, narcissus, tonka bean, jasmine, bergamot, rose, ylang-ylang, musk, violet root, fresh notes, lemon, amber, peach, vanilla
7. Jo Malone Orris & Sandalwood Eau De Cologne
A floral-woody perfume devoted to the iris root, Jo Malone's Orris & Sandalwood is a delight. The plant's tuber, rather than the flower, is used to make perfume because of its strong, heady scent. Pierre Negrin, the perfume's creator, was inspired to make Orris & Sandalwood after seeing photos of the Tuscan countryside covered in blooming iris.
Orris & Sandalwood is an exquisitely scented plant with a hint of powderiness, nicely highlighted by languid violet accords and amber-woody reflections of sandalwood with amber. The final product is a natural iris scent that is complex, airy, engaging, and utterly unfake.
Brand: Jo Malone
Country of manufacture: England
Gender: Unisex
Release year: 2016
Perfumer: Pierre Negrin
Notes: orris root, sandalwood, amber, violet
8. Serge Lutens Santal Majuscule Eau De Parfum
With such a laconic composition, this fragrance has a rich and powerful energy that cannot be matched. It shimmers with extraordinary depths of sensuality and sexuality, but at the same time, it is characterized by audacity and attractiveness.
The fragrance embodies the beauty of warming sandalwood, its unimaginable sensuality, and sophisticated spice. Several varieties of magnificent woods form the basis of the sound of this amazing fragrance. As a result, its composition becomes velvety and luxurious, collected into a small bottle.
Brand: Serge Lutens
Country of manufacture: France
Gender: Women
Release year: 2012
Notes: sandalwood, coffee, cocoa, musk notes
9. Escentric Molecules Molecule 04 Eau De Toilette
Elegant and refined, the fragrance penetrates the soul's depths, making you feel light, free, liberated, and confident. This unique scent is appropriate for strict, uncompromising men and charming, all-knowing ladies.
Tart citrus accords of pink grapefruit work in excellent tandem with fresh hints of spicy juniper. The fragrance of exotic osmanthus looks gorgeous against the fragrant notes of a red roof, and overseas labdanum dances in an invisible dance with the mastic tree. Among the main components of perfume, the composition is the unique molecule javanol, which conveys the fragrance's special and unique spirit.
Brand: Escentric Molecules
Country of manufacture: England
Gender: Unisex
Release year: 2017
10. Narciso Rodriguez Santal Musc Eau De Parfum
In 2017, two luxurious women who know much about modern perfume fashion, Caroline Sabas and Sonia Constant, presented another stunning novelty. When she first meets you, she strikes a chord with her incredible, dizzying emotions and genuine peace. It's a whirlpool of genuine feelings.
The top of the triangle is represented by fragrant, magnificent ylang-ylang, whose floral fragrance is amazingly set off by the spicy spiciness of oriental cardamom. Despite its undivided composition of striking, acidic notes or warm golden notes, luxurious sandalwood occupies a special position in a perfume's heart.
It creates a scent that is incredibly seductive and popular. They are responsible for a harmonious aftertaste and arrange the last chords in a compelling picture. The fragrance is intended exclusively for women.
Brand: Narciso Rodriguez
Country of manufacture: USA
Gender: Women
Release year: 2017
Notes: sandalwood, cardamom, ylang-ylang, musk
Final Words
It is gratifying that everyone can experience the blissful scent of sandalwood by purchasing a bottle of perfume.
About Sandalwood Perfumes
The sandal has long served as the personification of the East, its reserved, sacred, mysterious attribute, evidence of luxury and mystery. He came from the palaces of the eastern rulers and harems, hidden from prying eyes. One of the oldest incense known to mankind is sandalwood.
Essential oil, like fragrant wood, is obtained from white sandalwood. However, because India at one time actively exported essential oil, sandalwood groves practically died out, and today, the plant is at extinction. That is why, no matter what they write in press releases and tell consultants, natural white sandalwood is not found in perfumery today. Instead, chemical compounds are used.
Sandalwood must be over 30 years old to produce complete oil. After that, the tree is completely uprooted since the most valuable raw materials are in the roots. Indian "white" ("yellow") sandalwood is the most prominent.t has the highest content of santol (up to 95%), which is crucial for the value of sandalwood oil. Now the export of white sandalwood is completely banned "until the population is restored."
Sandalwood, which has more modest characteristics than Indian sandalwood, is cultivated in Australia. This is the most common variety. The size of the plantations is comparable to the area of ​​three France. The sensible approach of the authorities to the export and reproduction of sandals allows the world to enjoy the wood and oil of this beautiful plant. Polynesia has also adopted a government program for the wise use of sandalwood resources.
Perfumery could not pass by such a wonderful substance as sandalwood oil. It has a unique, rich, warm aroma – woody, with a smoky-musky undertone. It stimulates the libido, brings a sense of celebration, and is a reliable stabilizer for more volatile compounds. There are no analogs for him.