There are many perfumes for Men and Women with a Mint as a background note, but it is also implied in such fragrances, shading herbal or fruity notes. In perfumery, mint creates a special aromatic accent and strengthens the sound of floral and woody notes.
The Best Mint Perfumes for men and women contain aquatic and floral scent composition components. The cold notes of mint awaken, energize, and uplift the mood.
Perfume with min note is not so common in the perfumery market. And all because menthol can overshadow any composition, making it much flatter and more linear than it could be without a mint note. An aggressive note that does not add depth but is desirable in sweltering hot weather. It is mint and menthol (an aromatic organic compound obtained from this plant) that can refresh on a hot day and give a feeling of chill on the skin.
Our Top Picks For Best Mint Perfumes
1. Versace Eros For Men Eau De Toilette
Versace Eros – The fashion house launched this fresh perfume for men in 2012. Inspired by Greek myths, perfumer Aurelien Guichard tried to embody passion and sensuality in the new men's fragrance, naming his creation in honor of the ancient Greek god of love, Eros, the son of the goddess of beauty, Aphrodite. Opening with top notes of citrus, mint, and apple, the fragrance fills with heart notes of geranium and tonka bean. The composition ends with sensual notes of noble wood.
Brand: Versace
Country of manufacture: Italy
Gender: Men
Release year: 2012
Notes: geranium, oakmoss, vetiver, mint, ambroxan
2. Amouage Beach Hut For Men Eau De Parfum
The famous Arabic perfume house Amouage has presented an unsurpassed woody-fougère men's perfume Beach Hut, distinguished by a surprisingly light, refreshing, and alluring sound with subtle oriental splashes.
This perfume was released as part of the brand's unique perfume collection called Midnight Flower Collection, the fragrances of which differ somewhat from traditional oriental perfumes with their romantic and light compositions. Amouage Beach Hut will take you to a cozy bungalow on the shores of a tropical beach. Here, you and your loved one will be surrounded by the fragrance of tropical flowers and gentle sea surf.
Brand Name: Amouage
Country of manufacture: Oman, UK
Gender: Men
Release year: 2017
Notes: ivy, orange blossom, patchouli, galbanum, dry woods, mint
3. Prada Luna Rossa For Men Eau De Toilette
Prada Luna Rossa – Created by perfumer Daniela Andrier, a masculine perfume that deftly reinterprets traditional ingredients. The new perfume embodies strength and freshness. The bottle and packaging reflect the marriage of nature and technology, emotions and strength, allowing the limits of what is possible to be pushed. The top notes are bitter orange & lavender. Heart notes: clary sage and mint. Base notes: ambrette.
Brand: Prada
Country of manufacture: Italy
Gender: Men
Release year: 2012
Perfumer: Daniela (Roche) Andrier
Notes: clary sage, lavender, orange, mint
4. Thierry Mugler A*Men Kryptomint Eau De Toilette
A real "rebel" in the perfume world – the Thierry Mugler brand has refreshed its previous, trendy A Men fragrance, presenting its different version called A`Men Kryptomint to the judgment of the discerning public.
With the perfume presented today, Thierry Mugler A*Men Kryptomint, true masculinity, thanks to the creative talents of perfumers, sounds completely different – energetic, refreshing, romantic, mysterious, and highly charismatic, enhancing the image of a true man with something fresh and somewhat surprising that breaks stereotypes.s.
Brand: Thierry Mugler
Country of manufacture: France
Gender: Men
Release year: 2017
Notes: geranium, sage, coffee, chocolate, patchouli, vanilla, tonka bean, mint
5. Hugo Boss Hugo For Men XY Eau De Toilette
Men's perfume of 2007 expresses the audacity and honesty of the modern man, as well as his sensuality and attractiveness. Perfume notes are woven into a truly masculine fragrance that conveys the maximum feelings and emotions of the seducer and conqueror of the new millennium.
The perfume is indispensable for romantic evenings and dates. It is a bright club accessory that will allow you to stand out against the fragrant clichés of other perfumes.
Modern accents of mint, bergamot and citron in the opening notes convey an atmosphere of freshness and lightness, stunning frankness, and stylish audacity of the bouquet. Yet, the perfume's heart is characterized by sonorous notes of spicy pear and eccentric basil.
Spicy cedarwood and sensual patchouli complete this anthem of freedom and independence. In this way, the fragrance is designed to make the modern man feel as comfortable and at ease as possible.
Brand: Hugo Boss
Country of manufacture: Germany, England
Gender: Men
Release year: 2007
Notes: pear leaves, basil, patchouli, cedar, bergamot, mint, musk notes
6. Jo Malone White Jasmine & Mint Eau De Cologne
Jo Malone, White Jasmine & Mint – This perfume invites elegant and eccentric ladies to take a walk through an English country parkWarm from the morning sun, the atmosphere transports a fresh scent of peppermint and the aroma of jasmine evokes romance. A charming bouquet of delicate white flowers will emphasize you're incredible charm.
Brand: Jo Malone
Country of manufacture: England
Gender: Unisex
Release year: 2007
Notes: coriander, chamomile, cardamom, vetiver, rose, ylang-ylang, mint, musk, black currant, lily of the valley, orange blossom, plum, tea, cedar, guaiac wood, jasmine, bergamot
7. Salvatore Ferragamo Acqua Essenziale Eau De Toilette
Salvatore Ferragamo Acqua Essenziale – Thperfume composition reflects the image of a modern, stylish, and attractive man. The perfume is classified as casual, with fresh green undertones. "Essence of Water" admirers prefer a luxurious life and know not to crumble under pressure.s. Base notes mint, petitgrain, geranium, lavender, sea notes, rosemary, vetiver, labdanum, musk, patchouli.
Brand: Salvatore Ferragamo
Country of manufacture: Italy
Gender: Men
Release year: 2013
Perfumer: Alberto Morillas
Notes: rosemary, patchouli, petitgrain, lavender, vetiver, mint, musk, geranium, sea notes, labdanum
8. Guerlain Aqua Allegoria Herba Fresca Eau De Toilette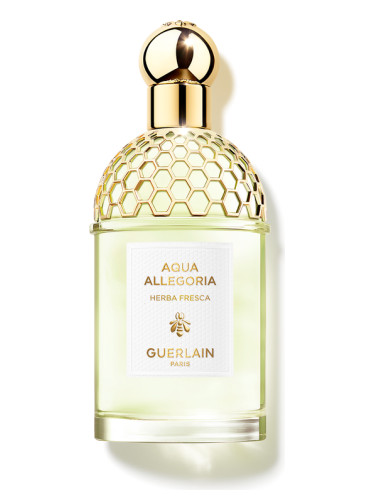 Created in 1999, the fragrance is part of the Aqua Allegoria collection. A romantic and fragile young woman, or a very young girl, owns the perfume. The composition is composed of a small number of ingredients.
The perfume opens with light notes of Italian lemon and herbal clover accords. Anyone who inhales this bouquet is instantly transported from the office or apartment to the green expanses of alpine grasses, not yet fully understanding how this happened, already enjoying the aromas of meadows and fields.
Fresh curly mint, clear in the heart note and complemented by an almost imperceptible aroma of green tea, gives the composition a watery touch as if dew drops left on a meadow refresh a heated body. The unexpected scent notes of lily of the valley and alpine violet highlight the female nature of its owner. This trail lasts long enough and is the main mystery of the fragrance.
Brand: Guerlain
Country of manufacture: France
Gender: Women
Release year: 1999
Perfumer: Jean-Paul Guerlain
Notes: lily of the valley, cyclamen, red currant, lemon, mint, green tea
9. Giorgio Armani Acqua di Gioia Eau De Parfum
Women's Eau de Parfum was introduced to the world in 2010. Perfume belongs to the family of water, and will pleasantly surprise the lover of fresh and unusual flavors. The top notes are fresh, peony and mint. The heart notes are jasmine and aquatic notes, while the base of this magnificent fragrance is sugar cane, incense, and cedar.
Inhaling the aroma, you will feel like you are on the shores of a luxurious resort under green palm trees and a pleasant breeze. The purpose of creating these spirits is to lift a woman to the pinnacle of bliss and make her feel like a real queen without any worries and hardships of this world.
Brand: Giorgio Armani
Country of manufacture: France
Gender: Women
Release year: 2010
Perfumers: Anne Flipo, Dominique Ropion, Loc Dong
Notes: sugar, french labdanum, pink pepper, lemon, peony, jasmine, mint, Virginian cedar
10. Serge Lutens L'Eau Froide Eau De Parfum
This is the perfume of 2011, created for stylish and unique women, for beauties who know no bounds to their charm and beauty. This is a fragrant fairy tale for the unique and extraordinary. The perfume begins the game of passion and love with notes of olibanum and the refreshing coolness of seawater. No wonder these notes reveal an aura of lightness and unconstrained mystery.
Peppermint and blue mint are central to the fragrance, culminating in the sensual warmth of musk and vetiver. This finish has a truly French chic and unique charm.
Brand: Serge Lutens
Country of manufacture: France
Gender: Women
Release year: 2012
Perfumer: Christopher Sheldrake
Notes: woods, incense, eucalyptus, bay leaf, rosemary, pepper, mint
Conclusion
You can call a variety of flavors fresh and cool. But in absolute freshness, mint, perhaps, has no equal. Now is the time to turn these perfumes with mint notes to your attention.
About Mint Fragrances
The name of this fragrant plant comes from the name of the nymph Minta. Minta is the goddess of Mount Mente in Elis, the beloved of the god of the underworld, Hades. The jealous wife of Hades Persephone turned her into a plant – fragrant mint.
There are wide mint varieties, but Mitcham oil is considered the highest-quality flavoring and costs several times more than other varieties. Another significant species is Mentha spicata or curly mint. This plant contains almost no menthol, has a sweet grassy smell, and is used to manufacture chewing gums and toothpaste.
Mint has an easily recognizable aroma and is widely used in cooking, medicine, cosmetics, and perfumery. Associated with chilling freshness, most varieties have a high menthol content. The flowering tops of mint and leaves serve as raw materials for producing essential oil.
However, although this plant is rich in oils, its synthetic substitute is increasingly used in perfumery. This is because natural peppermint essential oil can cause allergic reactions. Today, the United States is the main supplier of peppermint essential oil. And this plant grows almost everywhere.