John Varvatos is a name synonymous with sophisticated style and exquisite fragrances. As a fashion designer, Varvatos has been known to create designs that exude masculinity, and his colognes for men are no exception. The John Varvatos colognes for him are crafted to perfection, with each scent offering a unique blend of ingredients that will leave a lasting impression.
There is a cologne for every occasion from John Varvatos, whether you prefer a bold, daring scent or something subtle and refined. Let's explore the 8 Best John Varvatos colognes for him, and why they are a must-have addition to any gentleman's grooming routine.
Who Is John Varvatos?
John Varvatos is an American fashion designer of Greek origin, born in Michigan, USA. In 2000, he created his brand. Before launching the brand, Varvatos managed to lead the men's lines of Ralph Lauren and Calvin Klein.
From 1983, he worked for Polo Ralph Lauren, and seven years later, in 1990, he moved to the Calvin Klein Fashion House and took the position of Managing Director of Men's Design, responsible for all men's collections and the CK brand.
Five years later, in 1995, John Varvatos returned to Polo Ralph Lauren and became vice president responsible for developing men's design for all brands owned by the corporation. During this period, John created the famous brand Polo Jeans Company. In the fashion world, John Varvatos made a name for himself. In no time, he became a popular designer.
In 1999, the first show of the John Varvatos men's collection took place. It was the show of the autumn-winter 2000 collection, and for this work, the designer received the prestigious Perry Ellis award, which was presented for the best debut.
Awarded CFDA Men's Designer of the Year in 2000, Varvatos has also won several other awards. It is worth noting that John received this title three times, which testifies to the American designer's extraordinary abilities and talent.
The designer's clothing lines are distinguished by classic cut, elegance, unsurpassed sophisticated style, and modernity. A few months later, John Varvatos branded boutique opened in the prestigious Soho district in Manhattan. Soon the designer's collections are sold in 16 countries, and sales are growing unprecedentedly.
The designer's style is heavily inspired by rock music; in addition to attracting musicians to advertising campaigns (Iggy Pop, Alice Cooper, Ringo Starr, Chris Cornell, and Green Day were filmed for the brand at different times), the fashion designer owns his record label, John Varvatos Records.
In 2007, John Varvatos presented his first womenswear collection to the world. This collection of colognes, stylish sunglasses, and a cosmetic line was created with the Japanese brand "Shiseido." Between 2004 and 2008, the designer produced three lines of exclusive branded products.
8 Best John Varvatos Colognes For Men
John Varvatos Artisan Cologne Eau De Toilette
John Varvatos Artisan Cologne EDT Spray is a luxurious fragrance perfect for men who appreciate sophistication and elegance. Crafted by the renowned designer John Varvatos, this cologne is a masterpiece of artistry and creativity.
The Artisan Cologne EDT Spray is a perfect blend of citrus, herbs, and spices, which gives it a fresh and invigorating scent. The fragrance opens with Sicilian Clementine, tangelo fruit, and Mexican tangerine, followed by the delicate and refined scent of thyme, marjoram, and Greek lavender.
The base notes of this cologne are a blend of musk, amber, and woody notes that give it a warm and sensual feel. It is a long-lasting fragrance suitable for daytime and evening wear.
The Artisan Cologne EDT Spray comes in a stylish and elegant bottle that reflects John Varvatos's design aesthetic. The bottle has a handwoven rattan covering that adds to its artisanal feel and makes it a beautiful addition to any collection.
Brand: John Varvatos
Country of manufacture: USA
Gender: Men
Release year: 2009
Perfumers: John Varvatos , Rodrigo Flores-Roux
Notes: woods, marjoram, amber, mandarin, ginger, musk, thyme orange blossom, clementine
John Varvatos Dark Rebel Rider Cologne
John Varvatos Dark Rebel Rider is a fragrance that embodies the multifaceted personality of the modern man, his fearless and brutal, unconventional and noble character. The fragrance pays homage to the world of high-speed motorcycles and the iconic black leather jackets that modern bikers cannot be without.
The composition combines a hot rebellious spirit and cool, ringing aromas of freshness. A dynamic perfume of contrasts, described as a bold combination of sexy leather notes, hot amber-resinous accords, dark woods, calm and luminous aldehydes, and fresh, energetic green facets.
Brand: John Varvatos
Country of manufacture: USA
Gender: Men
Release year: 2016
Perfumer: Rodrigo Flores Roux
Notes: osmanthus, labdanum, marjoram, incense, orris root, benzoin, cedar of bitter orange, tolu balsam, hyssop, patchouli, saffron, vanilla, atlas, aldehydes, cedar, violet, leather, woody notes, cocoa
John Varvatos Oud Cologne Eau De Toilette
John Varvatos Oud Cologne Eau de Toilette Spray is a high-end and sophisticated fragrance for men. This cologne is designed to capture the essence of the Middle East with its warm, exotic, and woody scent.
The fragrance features a unique blend of oud wood, tobacco, spice, and leather notes that combine to create a rich and intoxicating aroma. The oud wood, derived from the resin of the agarwood tree, adds a distinctive and powerful smoky note that lingers on the skin.
In addition to its captivating scent, the John Varvatos Oud Cologne Eau de Toilette Spray comes in a stylish and elegant bottle reminiscent of a vintage apothecary jar. The black glass bottle is topped with a sleek silver cap and is embossed with the John Varvatos name, making it a perfect addition to any man's grooming routine.
Brand: John Varvatos
Country of manufacture: USA
Gender: Men
Release year: 2014
Notes: oud, cypress, cinnamon, osmanthus, nutmeg, incense, pepper, amber, cardamom, cedar, saffron, clove, jasmine, rose, opoponax, myrrh, leather, sage, tobacco, labdanum, juniper berries
John Varvatos Artisan Blu Cologne Eau De Toilette
Stylish, light, and modern composition John Varvatos Artisan Blu is designed to emphasize the subtle style and uniqueness of every moment in the life of a modern man. Modern men who value quality, style, and sophistication will love this fragrance. It blends fresh and aromatic notes that create a unique and refreshing scent. Some of the key notes in this fragrance include bergamot, lavender, basil, and bitter orange, which give it a crisp and clean aroma.
One of the best things about the John Varvatos Artisan Blu Cologne EDT Spray is its long-lasting scent. The fragrance is designed to last for hours, which means you can apply it in the morning and still smell great well into the evening. Colognes like this are perfect for busy professionals who do not have time to reapply cologne during the day constantly.
Brand: John Varvatos
Country of manufacture: USA
Gender: Men
Release year: 2016
Notes: iris, orange blossom, geranium, palm, cedar, lavender, bergamot, orange, fruits, sage, tamarind, pistachio, pine, basil, patchouli
John Varvatos for Men Cologne Eau De Toilette
Created in 2004, this oriental-woody cologne for men by John Varvatos is dedicated to the bold, strong, active, and erotic modern man. This perfume truly fascinates with its scent, fraught with many secrets, emotions, and contrasting chords. This is a deep, multifaceted, and luxurious fragrance with delicate and soft undertones full of emotions and fire-breathing passion.
The trail envelops the softness and warmth of exotic woods, black leather, amber, fragrant balsam, and vanilla notes. The initial notes amaze with the depth of shades of exotic fruits, Indian mandarin leaves, and fresh herbs. "Heart" notes are filled with aromas of sage, Indian Giovan, and coriander seeds.
Brand: John Varvatos
Country of manufacture: USA
Gender: Men
Release year: 2004
Perfumer: Rodrigo Flores Roux
Notes: sandalwood, cinnamon, coriander, lime, pepper, cedar, fig, pear, leather, fig leaves, clary sage
John Varvatos Acqua Cologne Eau De Toilette
The fragrance will remind you of calm summer walks along the Mediterranean coast when you can relax and indulge in rest alone with nature. With this EDT spray, you will feel refreshed and confident.
The top notes of John Varvatos Acqua Cologne EDT Spray are refreshing and include citrus and herbs, while the heart notes include spicy and floral scents. Woody and warm base notes give the fragrance a masculine feel.
Brand: John Varvatos
Country of manufacture: USA
Gender: Men
Release year: 2013
Perfumer: Rodrigo Flores Roux
Notes: fir resin, jasmine, sage, coriander, samba, lavender, musk, basil, patchouli, palm tree, geranium, clary
John Varvatos Vintage Cologne Eau de Toilette
Ambre of toilet water conquers true gentlemen. The delightful cologne has become a favorite perfume for men who prefer to surround themselves with elegant luxury. The top aromatic notes of John Varvatos Vintage hide wormwood bitterness, created by silvery absinthe, and the sweetness of wild fennel, intertwined with waves of rhubarb, mixing a light, refreshing and pleasant sourness into the overall composition.
The gentle plume of the perfume slightly gives off the smoke of Albanian juniper berries, in which the tart sweetness of ripe African quince is sometimes heard, between the "sparks" of which, now and then, cool waves of the aroma of white lavender essential oils flicker. After a couple of minutes of the ensemble of herbal notes' rampage, it reveals the perfume's heart.
It is filled with warm, delicate blotches of white jasmine, presented on a "velvet bed" of oakmoss aroma, to which the velvety aroma of patchouli is added. The smoky veil in the heart of the Eau de perfume, still left from the top notes, is carefully supported by a resinous spruce balsam.
The aroma hides a waterfall of gentle, pleasantly rough suede and Turkish tobacco aromas, acting on ladies' environment like powerful aphrodisiacs. Periodically slips in the base notes of Eau de perfume and the smell of Tonka beans, delicate and bright.
The last, multifaceted component, amplifying one of its constituent notes, depends on various external factors, up to the environment's temperature. It has a place for sweetish notes of vanilla and cinnamon, spicy cloves, and mysterious almonds. It is also a very powerful tool in the "battles" for the close attention of the opposite sex.
Brand: John Varvatos
Country of manufacture: USA
Gender: Men
Release year: 2006
Perfumer: Rodrigo Flores Roux
Notes: oakmoss, suede, tobacco, fir, patchouli, tonka bean
John Varvatos Star USA Cologne Eau De Toilette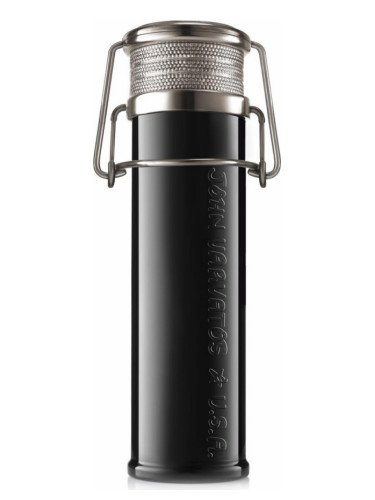 John Varvatos Star USA Cologne EDT Spray is a premium fragrance for men that combines the perfect blend of sophistication and ruggedness. The scent is inspired by the designer's passion for music and the rebellious spirit of rock and roll. Modern men looking to make a statement with their scent will love this fragrance.
Cedrat, juniper berries, and red ginger essence are found in the top notes of John Varvatos Star USA Cologne EDT Spray. Osmanthus, green cardamom, and blue spruce compose the heart notes. Last but not least, tonka bean, vetiver, and belambre are featured in the fragrance's base notes.
Suitable for men who like a long-lasting, fresh scent. The long-lasting formula ensures you can smell great throughout the day, whether at work, on a night out with friends, or a date.
The John Varvatos Star USA Cologne EDT Spray bottle is designed to reflect the essence of the fragrance. It has a sleek, modern look with a metal star logo, giving it a rock and roll vibe. The bottle is also perfect for travel, making it easy to take your signature scent anywhere.
Brand: John Varvatos
Country of manufacture: USA
Gender: Men
Release year: 2011
Perfumer: Rodrigo Flores Roux
Notes: spruce, osmanthus, juniper berries, ambrette, citron, cardamom, ginger, tonka bean, vetiver
Conclusion
John Varvatos is worth considering if you're looking for a high-quality, long-lasting, versatile cologne that offers great value and comes from an iconic brand. A scent to match your style and personality is sure to be found among many options.
John Varvatos Cologne History
Today, the JOHN VARVATOS brand indicates excellent taste and status in society. Perfumery history of the House of John Varvatos begins in 2004. Two years later, in 2006, John Varvatos Vintage, the most popular composition to date, was released, and in 2008, the first and only women's cologne from Varvatos, John Varvatos Woman.
The brand released a limited edition of the debut fragrance in 2010, dedicated to the brand's tenth anniversary. In 2018, the brand announced a collaboration between the designer and British musician Nick Jonas, including the JV x NJ fragrance release. Later, the line was supplemented by JV x NJ Crimson and JV x NJ Silver flankers.
Since then, John Varvatos has continued releasing a wide range of fragrances, each inspired by the brand's rich history and commitment to quality. Each scent is carefully crafted using only the highest quality ingredients, ranging from fresh and citrusy Artisan to woody and smoky Dark Rebel.
Why Should You Buy John Varvatos Colognes?
This iconic brand offers a wide range of scents perfect for any occasion. Colognes by John Varvatos is an excellent choice for several reasons:
High-Quality Ingredients: Every John Varvatos cologne is crafted with top-quality materials. Each scent, from fresh citrus notes to earthy musks, is carefully crafted to create a unique and unforgettable experience.
Long-Lasting Fragrances: One of the most important things to consider when purchasing a cologne is how long the scent will last. John Varvatos colognes are known for their long-lasting fragrances, meaning you can enjoy your new scent all day.
Versatile Scents: Whether you're looking for a fresh scent for everyday wear or a more sophisticated scent for a special occasion, John Varvatos has something for everyone. From classic scents like Artisan and Vintage to more modern scents like Dark Rebel and JVxNJ, there's a John Varvatos cologne for every style and personality.
Great Value: When it comes to designer colognes, John Varvatos offers some of the best value for your money. John Varvatos colognes suit every budget, ranging from affordable to luxurious.
Frequently Asked Questions
How Long Do John Varvatos Colognes Last?
John Varvatos colognes for him are designed to last for several hours. However, the length of time the fragrance lasts will depend on several factors, including your skin type, how much you apply, and the specific fragrance you choose.
How Do I Apply John Varvatos Cologne?
To apply John Varvatos cologne for him, follow these steps:
Spray the cologne onto your pulse points, such as your wrists and neck.
Don't rub the cologne in; this can break down the scent and make it less effective.
Apply the cologne after showering and before getting dressed, as this will allow the fragrance to develop on your skin fully.
Is John Varvatos Colognes Expensive?
John Varvatos colognes for him can be a bit pricey, but they are considered high-quality fragrances. Prices vary depending on the specific fragrance and the size of the bottle, but you can expect to pay anywhere from $50 to $150 for a bottle of John Varvatos cologne for him.