The spring and summer seasons are ideal for light and energetic fragrances so that we can feel positively tuned into each day as they bring a breath of freshness. There are often scent notes of citrus in fruit fragrances – one of the most interesting ideas is to incorporate grapefruit with its intense, distinctive aroma. The grapefruit allows you to conquer and complement other fragrance notes with its energetic, juicy, and citrusy taste.
The best grapefruit perfumes are the perfect addition to a juicy, energetic, light, and citrusy scent, ideal for spring and summer. By combining grapefruit notes, you can create imaginative combinations. Their subtle, fruity aromas from exotic fruits make them a wonderful composition that will delight men and women.
It is possible to make grapefruit fruit appear differently depending on the combination of flowers, citrus, woody or oriental notes it is combined with. In women's perfumes, grapefruit is often combined with flowers or oriental fragrance notes, while in men's perfumes, it is combined with sandalwood notes, herbal accords and exotic spices.
Combining contrasting chords and a pinch of fantasy allows you to create perfumes that can smell very diverse – from light, fresh, women's perfumes to heavy, expressive combinations that will appeal to men.
Best Grapefruit Perfumes to Wear in Summer
Hermes Terre d'Hermes Eau Intense Vetiver
In this woody-aromatic fragrance from the renowned Hermes brand, notes include vetiver, wild grass, bergamot, grapefruit and lemon. It is a refreshing and energizing fragrance complemented by an intriguing fragrance note of amber tree, patchouli, and olibanum. The fragrance is ideal for warmer days as it is extremely refreshing and energizing.
Paco Rabanne Invictus For Men Eau De Toilette
Introducing grapefruit, tangerine, and refreshing sea notes to Paco Rabanne Invictus woody-water perfume created an intriguing scent. Combining jasmine, bay leaf, moss, patchouli, and ambergris were created by combining them with moss, patchouli, and ambergris to create an outstanding fragrance perfect for active men to emphasize their strength and perseverance daily.
Paco Rabanne Pure XS For Men Eau De Toilette
An unobvious combination of fruit and herbal aromas results in Paco Rabanne Pure XS's extremely sophisticated and extravagant fragrance note proposal. A blend of ginger, thyme, cinnamon, vanilla, patchouli, cashmere wood, and liqueur, Paco Rabanne Pure XS combines energetic notes of green, grapefruit, bergamot and apple with characterizing notes of ginger, thyme, cinnamon, vanilla, patchouli and cashmere wood. It is perfect for every sophisticated man who appreciates high-quality fragrances enclosed in stylish bottles, including Paco Rabanne Pure XS Eau de Toilette.
Giorgio Armani Si Passione Eau De Parfum
One of the most interesting perfumes on the perfumery market is Giorgio Armani Si Passione Eau de Parfum, another reputable brand offering. This fragrance is a tribute to all free and self-conscious women with its passionate fragrance.
As a floral and fruity fragrance, Si Passion by Giorgio Armani is a hypnotic combination of notes like blackcurrant, grapefruit, pear, and pepper complemented by rose, jasmine, pineapple, heliotrope, cedar, vanilla, amber tree and patchouli to create an encircling bouquet.
King of Seduction by Antonio Banderas Eau De Parfum
In the collection of perfumes signed by Spanish actor Antonio Banderas, King of Seduction Eau de Toilette symbolizes masculinity and self-confidence. For every man who wants to smell stylish, emphasize self-confidence, and live according to his rules, the proposed fragrance is the right choice.
Every man and woman will enjoy the citrus freshness of King of Seduction fragrance with its hint of sweetness – this composition was created by combining grapefruit, pineapple, bergamot, melon, and green apple with aromatic notes of jasmine, cardamom, cedar, neroli, suede, and white musk to create an aromatic fragrance.
DKNY Be Delicious For Women Eau De Parfum
The DKNY Be Delicious fragrance offers an unusual combination of floral and fruity notes, with the juicy scent of green apples taking center stage, complemented by grapefruit, cucumber, magnolia, amber and sandalwood notes.
Due to its rich aromas and sensual notes, DKNY Be Delicious grapefruit perfume has been created in an extremely rich but slightly exotic fragrance composition, which is perfect for women who are confident, strong, and want to emphasize their character and inject extraordinary energy into their days.
Abercrombie & Fitch First Instinct Woman
Abercrombie & Fitch First Instinct Oriental Floral Perfume is an incredibly joyful and lively aroma composition perfect for women who appreciate their femininity and know their worth. With the combination of citruses, passion fruits, magnolias, juicy oranges, aromatic orchids, tonka bean, and warm amber in the perfume, a captivating composition was produced that perfectly captures the essence of every fleeting and exciting moment – every woman who appreciates sensual, seductive, yet graceful fragrances will find this fragrance appealing.
Yves Saint Laurent Mon Paris Couture
It features juicy grapefruits, refreshing bergamots, sweet raspberry notes, and rich, aromatic notes of lychees, tangerines, peonies, patchouli, abroad, white musk, cashmere and patchouli. A delicate, feminine bottle encapsulates all this – a perfect reflection of its warm, sun-filled and intense fragrance, a perfume that will be ideal for women who want to stand out from the crowd while highlighting their seductive nature and individuality.
Guerlain Aqua Allegoria Pamplelune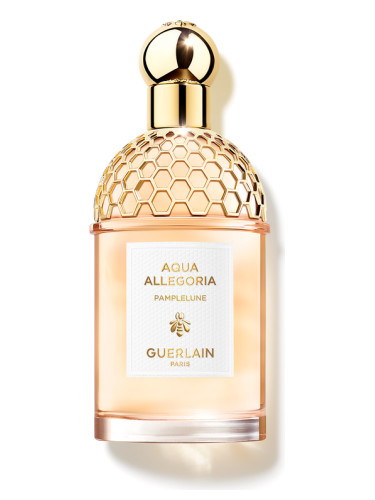 A citrus composition created by Jean-Paul Guerlain and Mathlide Laurent, Guerlain Aqua Allegoria Pamplelune is extremely expressive. A ripe red grapefruit scent was used as the basis, along with blackcurrant leaves, fresh bergamot, petitgrain, neroli, aromatic patchouli and vanilla.
Combining these notes made it possible to create an Eau de parfum with unusual fragrance qualities, which unobtrusively develop on the skin, providing it with a beautiful scent and refreshing sensation.
Calvin Klein Obsession Night for Men
An interesting fragrance composition for men from the Calvin Klein brand is Obsession Night. It contains notes of oriental-woody as well as grapefruit.
Verdict
A grapefruit perfume is an energizing scent that delights with the combination of grapefruit with other fragrance notes – fruity, floral, woody or oriental, suitable for both her and him. It is suitable for both women's and men's perfumes and has been successfully incorporated into various compositions for both sexes.
As a result of the grapefruit aroma in the compositions, they are extremely energized and fresh, making them ideal for everyday wear in the spring and summer. With grapefruit in the perfume, you gain refreshment on hot days and remember dream holiday destinations.
What Does Grapefruit Smell Like?
Grapefruit is a vibrant, summery, aromatic fragrance ingredient that lends itself well to various compositions. Perfumes with grapefruit give you a feeling of optimism and lightness daily.